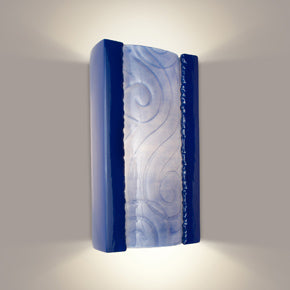 Our Clouds Cobalt Blue and Sapphire Wall Sconce is a beautiful designer wall sconce made from ceramics and reclaimed glass. This unique design will help set the mood for your room setting. Made in the USA and our price includes free shipping.
Our Price $467.50
Includes FREE SHIPPING
This one-of-a-kind wall light integrates fused art glass made from reclaimed window glass and kiln-fired glazed ceramic. Light shines from the top and bottom of the fixture as well as through the translucent pane featuring a textured pane of glass incised with airily spirals and winding lines. The Cobalt Blue, rectangular ceramic frame curves in gently at the back and supports a convex pane of Sapphire glass. Subtle color and texture variations are the hallmark of a truly handcrafted piece of art. This Clouds Wall Sconce is characterized by the the airily winding lines incised into the colored pane of fused glass. This fixture is rectangular from the front and back, trapezoid shaped from the top or bottom, with gently curving sides. Light shines through openings at the top, the bottom and illuminates the lofty and ethereal design of the glass. Hand-made to our exacting standards, using a kiln-fired ceramic base and recycled window glass from local sources.
Dimensions: 7.25"W x 13"H x 5"D
Standard Lamping: Uses (1) 60W E12 Candelabra Base Bulb. (Bulb not included)