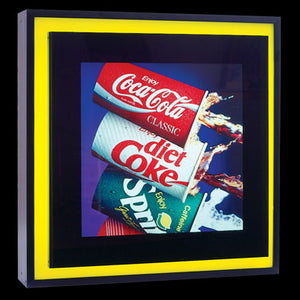 Our Price in Satin Silver or Black: $1,109
Our Price in Satin Gold: $1,309
Optional Power Switch: Add $25
Free shipping included (@ $85-$100 value)
No state sales tax collected (MN and FL excluded)
For quantity discounts and pay by check savings
please call #612-243-1000 or contact us.
Our Halolite Concession Sign is a beautiful commercial quality theater menu sign made in the USA. LED Backlit Concession Sign with Custom Halo Glow. About 2 weeks manufacturing time for Black and Satin Silver, with about 3 weeks needed for Satin Gold - plus shipping time from Florida.
Select Halo Colors of Red, Green, Yellow, or Blue.
Size: 26" x 26" x 4-3/4"
Comes "hard wire prepped" to be connected directly to the AC in your wall. Contact us if you would rather have an external power cord. We can also install a low-profile external rocker power switch for an additional $25.
Picture or Menu Insert sold separately - contact us, or call #612-243-1000.