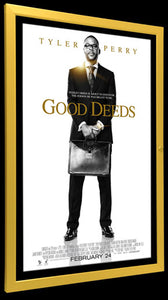 Our Price in Satin Silver or Black: $849
Our Price in Satin Gold: $995
Free shipping included (@ $125-$150 value)
No state sales tax collected (MN and FL excluded)
For quantity discounts and pay by check savings
please call #612-243-1000 or contact us.
Our GD model unlit movie poster frame is a beautiful commercial quality display made in the USA. Perfect for indoor use, but not for outdoor applications, as it does not have a locking door. Extruded anodized aluminum front-loading poster frame and all four sides of the frame snap open for fast, easy installation of flexible or rigid posters. Includes clear polystyrene poster protector/ enhancer. Takes "1-sheet" movie posters, or your own printed poster measuring either 26" x 40", or 27" x 41". Can be custom sized to fit your own media. About 2 weeks manufacturing time for Black and Satin Silver, with about 3 weeks needed for Satin Gold - plus shipping time from Florida.
Outer Dimensions: 29 ¼" x 43 ¼" x 1"
Custom frame sizing available - small frames subject to a minimum price - contact us, or call #612-243-1000 for specifics.