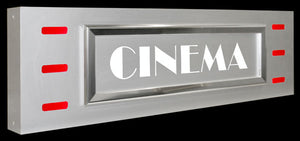 Our Price in Satin Silver or Black: $1,635
Our Price in Satin Gold: $1,680

Optional Power Switch: Add $25
Free shipping included (@ $85-$100 value)
No state sales tax collected (MN and FL excluded)
For quantity discounts and pay by check savings
please call #612-243-1000 or contact us.
Our Contempo Cinema Sign is a beautiful commercial quality theater sign made in the USA. It's the perfect sign for mounting over the door of your theater. It features LED backlit white "CINEMA" lettering and also LED backlit red accent panels. Contact us about customizing the wording, the font, or the backlit area colors. About 2 weeks manufacturing time for Black and Satin Silver, with about 3 weeks needed for Satin Gold - plus shipping time from Florida. 
Size: 40"w  x 12"h x 4"d
Made from Anodized Extruded Aluminum
Available in Satin Gold, Satin Silver or Semi-Gloss Black.
Standard AC wiring with less than 3 amp draw
Custom lettering/logo costs an additional $200. Call 612-243-1000, or contact us for details.
Hardwire is standard—power switch is not recommended. If you need a power cord, or want a power switch, please call us to confirm the special request and we will give you your options. We may have other backlit panel options other than white.