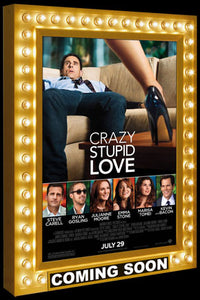 Our Price Satin Silver or Black: $2,975
Satin Gold Finish: $3,375

(Power switch option adds $25)
Free shipping included (@ $225-$300 value)
No state sales tax collected (MN and FL excluded)
For quantity discounts and pay by check savings
please call #612-243-1000 or contact us.
Our Premiere Marquee model marquee is a beautiful commercial quality backlit movie poster display made in the USA. This beautiful warm chaser bulb backlit movie poster frame features bright, adjustable speed 7 watt vanity style incandescent bulbs, in addition to the backlit poster effect. It's the perfect choice for commercial use, home theater entryways and hallways, plus areas where you want a bright marquee - the Premiere marquee really "POPS"!
Perfect for all indoor applications, as it does not have a locking door. Best used with double sided "1-sheet" movie posters, or your own Duratrans transparency measuring either 26" x 40", or 27" x 41". Can be custom sized to fit your own media. About 2 weeks manufacturing time for Black and Satin Silver, with about 3 weeks needed for Satin Gold - plus shipping time from Florida.
Dimensions: 35" x 50" x 4"

Weight: About 85 lbs.
Choose from Satin Silver, Satin Gold, or Semi-gloss Black case.
This display uses LED back-lighting. The external chaser bulbs are incandescent.
Choose "hard wire prepped" to be connected directly to the AC in your wall, or specify a power cord. We can also install an optional low-profile external rocker power switch for an additional charge of $25.
For indoor use only.