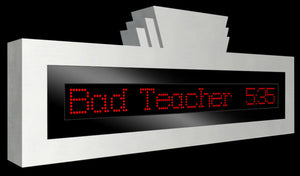 Our Price in Satin Silver or Black: $2,475
Our Price in Satin Gold: $2,955
Free shipping included (@ $85-$100 value)
No state sales tax collected (MN and FL excluded)
For quantity discounts and pay by check savings
please call #612-243-1000 or contact us.
Our Majestic Programmable Theater Sign is a beautiful commercial quality theater sign made in the USA. It is fully programmable with the included remote control, with red LED lettering. About 2 weeks manufacturing time for Black and Satin Silver, with about 3 weeks needed for Satin Gold - plus shipping time from Florida. 
Size: 32" x 15 5/8" x 5 3/8"
Wireless Remote Control Programmable
2" high Red LED Letters
Flush mounts to your wall
Made from Anodized Extruded Aluminum
Available in Satin Silver, Satin Gold, or Semi-Gloss Black.
Standard AC wiring with less than 3 amp draw
Please Note: These signs are for indoor use only.
Hardwire is standard—power switch is not recommended. If you need a power cord, or want a power switch, please call us to confirm the special request and we will give you your options.