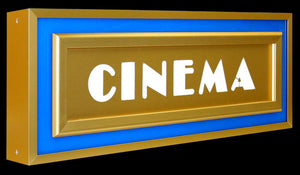 Our Price in Satin Silver or Black: $1,940
Our Price in Satin Gold: $2,019
Optional Power Switch: Add $25
Free shipping included (@ $85-$100 value)
No state sales tax collected (MN and FL excluded)
For quantity discounts and pay by check savings
please call #612-243-1000 or contact us.
Our Halo Cinema Sign is a beautiful commercial quality theater sign made in the USA. It's the  perfect sign for mounting over the door to your theater.
The Halo Cinema Identity Sign features a subdued LED backlit "Halo" of custom colored accent light around the white LED backlit "CINEMA" panel. Contact us about customizing the wording, and/or the font. About 2 weeks manufacturing time for Black and Satin Silver, with about 3 weeks needed for Satin Gold - plus shipping time from Florida.
Custom lettering/logo costs an additional $200. Call 612-243-1000 or contact us for details.
Size: 34-1/2"w  x 12"h x 4" d
Backlit CINEMA sign panel
Illuminated border
Made from Anodized Extruded Aluminum
Available in Satin Gold, Satin Silver or Semi-Gloss Black.
Also choose from Green, Yellow, Red, Purple, Teal and Magenta backlit "Halo" accent colors.
Standard AC wiring with less than 3 amp draw
Hardwire is standard—power switch is not recommended. If you need a power cord, or want a power switch, please call us to confirm the special request and we will give you your options. We may have other backlit panel options other than white.