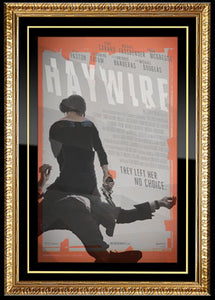 Our Price: $865
Free shipping included (@ $125-$150 value)
No state sales tax collected (MN and FL excluded)
For quantity discounts and pay by check savings
please call #612-243-1000 or contact us.
Our Artistic unlit movie poster frame is a beautiful commercial quality display made in the USA. The "Artistic" is our best classic frame for that special poster. Perfect for indoor use, but not for outdoor applications, as it does not have a locking door. Extruded anodized aluminum front-loading poster frame and all four sides of the frame snap open for fast, easy installation of flexible or rigid posters. Includes clear polystyrene poster protector/ enhancer. Takes "1-sheet" movie posters, or your own printed poster measuring either 26" x 40", or 27" x 41". Can be custom sized to fit your own media. About 3 weeks needed - plus shipping time from Florida.
Outer Dimensions: 34 ½" x 48 ½" x 1"
Available only in the finish shown.