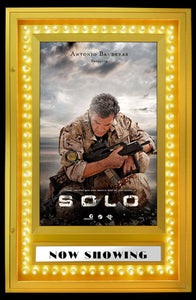 Our Price in Satin Silver or Black: $3,425
Our Price in Satin Gold: $4,065
Free shipping included (@ $225-$300 value)
No state sales tax collected (MN and FL excluded)
For quantity discounts and pay by check savings
please call #612-243-1000 or contact us.
Our Premiere Movie Poster Case is a beautiful commercial quality backlit movie poster display made in the USA. This beautiful warm chaser bulb backlit frame features bright, adjustable speed 7 watt vanity style incandescent bulbs, in addition to the LED backlit poster effect. It's the perfect choice for commercial use, home theater entryways and hallways. The chaser lighting on this poster frame is reminiscent of classic retro theater design.
Our black and satin silver signs take about 2 weeks to manufacture and satin gold takes 3 weeks - plus shipping time from Florida.

Dimensions: 38-3/8"x 59-1/4"x 5-3/8"
Suitable for either Indoor or Outdoor use.
This display uses LED back-lighting.
The external chaser bulbs are incandescent
Heavy extruded aluminum case
Recessed door
2 Cylinder locks with 4 keys
Full-length piano hinge
Aluminum back
Indoor or outdoor use (waterproof)
Integral matte behind door houses chase lights and front-loading poster frame, plus the lower dater panel with integral diffusion sheeting
Case can be ordered either with backlit dater panel area (includes "NOW SHOWING" and "COMING SOON" panels), or without the dater panel area - default price is with the dater panel.
This poster case comes "hard wire prepped" to be connected directly to the AC in your wall. Contact us if you would rather have an external power cord (not for outdoor use). Power switch option adds $25.